Tips for ONDA Solid surface bathtub maintenance
---
---
ONDA Solid surface bathtub manufacturer: tips for bathtub maintenance
Many homes now have ONDA Solid surface bathtubs installed. In daily life, if the bathtub is not properly maintained, it will not only shorten the service life of the bathtub, but also be detrimental to our health. So what should we pay attention to when maintaining ONDA Solid surface bathtub?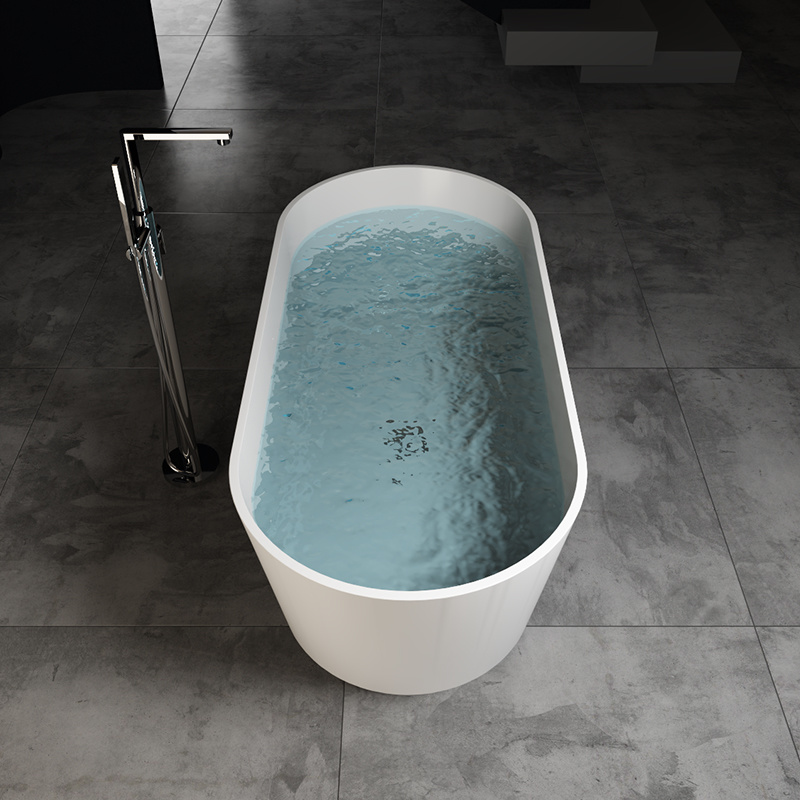 Tips for ONDA Solid surface bathtub maintenance
1: Repair the scars in time
Usually do not hit ONDA Solid surface bathtub with hard objects, otherwise it will cause the bathtub to be bumped or scratched. If the dull or scratched part of the bathtub needs to be repaired, it can be wiped vigorously with a clean rag mixed with a colorless automatic polishing solution, and then coated with a layer of colorless protective wax. Do not wax the footing area to prevent slipping.
2: Mild treatment of surface stains
You can use a discarded soft-bristled toothbrush dipped in water to rinse the surface, both to remove stains and to eliminate mold. If you have a hard-to-remove stain, you can also use half a lemon dipped in salt. Common products for cleaning toilets also work well for limescale, or a more natural solution like lemon and white vinegar.
3: Deal with blockages in time
The ONDA Solid surface bathtub needs to be cleaned every week, not only to remove the odor, but also to prevent the growth of bacteria. If the bathtub is clogged, close the drain valve first, then put in an appropriate amount of tap water, place the rubber suction device on the drain valve, and at the same time open the drain valve, block the basin or overflow hole, quickly suck up and down, and suck out the dirt. Instant clean.
4: Different materials have different cleaning methods
When cleaning ONDA Solid surface bathtub, do not use coarse cloth or scouring pad, and do not use any cleaning agent containing granular objects. We can use sponge and flannel with mild cleaning agent. Cast iron bathtubs should be rinsed well with water after each use and dried with a soft cloth. Do not scrub with steel wool, wire brushes or abrasive sponges.
5: Cleaning of sundries and oil stains
ONDA Solid surface bathtub sometimes encounters hair or dirt floating on the hot water. We try to float the old newspaper on the surface of the hot water, slowly push it away and gently pull it out, and the hair or dirt can be sucked up. The walls of the bathtub are sometimes greasy, because the human body itself secretes oil, which can be cleaned with soap.
---
ONDA Solid surface bathtub